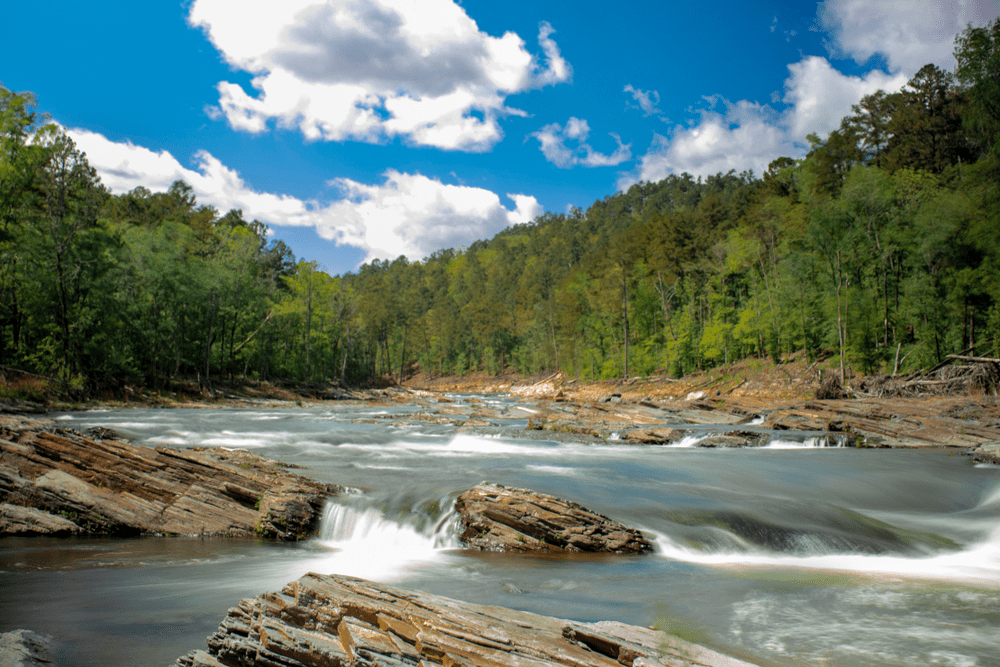 While there are a plethora of attractions in Broken Bow, Oklahoma, it is one of the most naturally scenic cities that Oklahoma has to offer. McCurtain County houses state parks, the Mountain Fork River, Broken Bow Lake, and the Ouachita National Forest. When you book a Broken Bow, Oklahoma, cabin at Beavers Bend Creative Escapes, visit the local wildlife, and explore all the stunning sights this area offers. Who knows what breathtaking views you might discover. 
Catch a glimpse of a white-tailed deer or listen for the resounding slap of a beaver's tail on the pond. Less than an hour's scenic drive from your Broken Bow, Oklahoma, cabin, you're bound to hear and see all kinds of animals at the Little River National Wildlife Refuge. Immerse yourself in nature at this sanctuary, and wait for passing waterfowl, watch for snakes slithering underfoot, and open your ears. You're more likely to hear more than you see.
Other than being a hotbed for flyfishing, the magnificent Mountain Fork River harbors stunning cascades and rapids. Paddle your way around serene parts of this pristine river. Or, walk alongside it on scenic nature trails. 
Scenic Hikes
near Our Broken Bow, Oklahoma, Cabins
There are a plethora of scenic hikes near your Broken Bow, Oklahoma, cabin. Some of the best trails for gorgeous overviews can be found at Broken Bow State Park.  
Cedar Bluff Nature Trail

is barely a mile long but grants some fantastic sights, like a picturesque view of a river bending around bluffs and forests. 

Lookout Mountain

will take you through the woods and across tranquil rivulets with intermittent cascades and is an excellent place to go bird watching.

Skyline Trail

is better than any city skyline. Traverse this 10-mile trail under a bright, blue sky and towering oaks. You'll cross paths with the Mountain Fork River and all manner of wildlife. 
Broken Bow, Oklahoma, Cabins for Your Summer Getaway
If you're still looking for things to do near your Broken Bow, Oklahoma cabins this summer, we recommend spending as much time as possible exploring the natural areas surrounding our Hochatown cabins. If you have additional questions regarding unique activities in the area or our Beavers Bend cabins, don't hesitate to contact us.